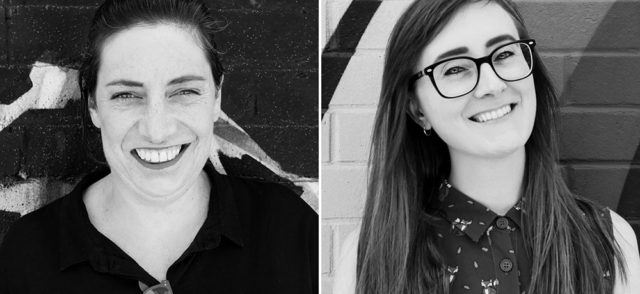 Digital Loop continues to grow with the addition of two new staff – Georgie Strain as Business Development Manager and Tash Edge as Campaign & Communications Manager.
Strain (L) joins the Business Development team after 10+ years working across media and agencies, including Urban Walkabout, Jump Climb Digital and Block Branding.
She has worked with a raft of big Perth clients across the hospitality and tourism, Government and private sectors, and brings a wealth of knowledge in sales, account management, business development, strategic activation and marketing.
Edge joins the Communications team with prominent Perth Creative Director Josh Edge, bringing experience in marketing and design after a number of specialist and manager positions at Ear Science Institute Australia and Guide Dogs WA, as well as freelance writing.
Her role as combined Campaign and Communications Manager ensures greater efficiencies across campaign implementation and reporting as well as ensuring Digital Loop continues to grow traction in the Perth market.
Digital Loop Managing Director Chris Coufos is thrilled at the team's expansion, and what this means for Digital Loop as they head into their seventh year with a bigger and better office location in the heart of Mount Lawley at 636-638 Beaufort Street.
"As we kick off the new decade, we're turning Digital Loop up a notch and delivering even more creative solutions, value and flexibility for our clients," said Coufos.
"Our publisher suite is growing year on year, with last year expanding our suite to with Student Edge and RTR FM added to our suite of premium digital publishers. We are also providing in-house capabilities across production that will enable us to work closer than ever with our clients and deliver integrated, successful digital campaigns."
Coufos said the addition of new premium media channels Student Edge and RTR FM further solidifies Digital Loop as WA's largest digital media publishing group. Digital Loop also represents The Guardian, VICE, Mamamia, Evolve Media, Ziff Davis and inMobi.